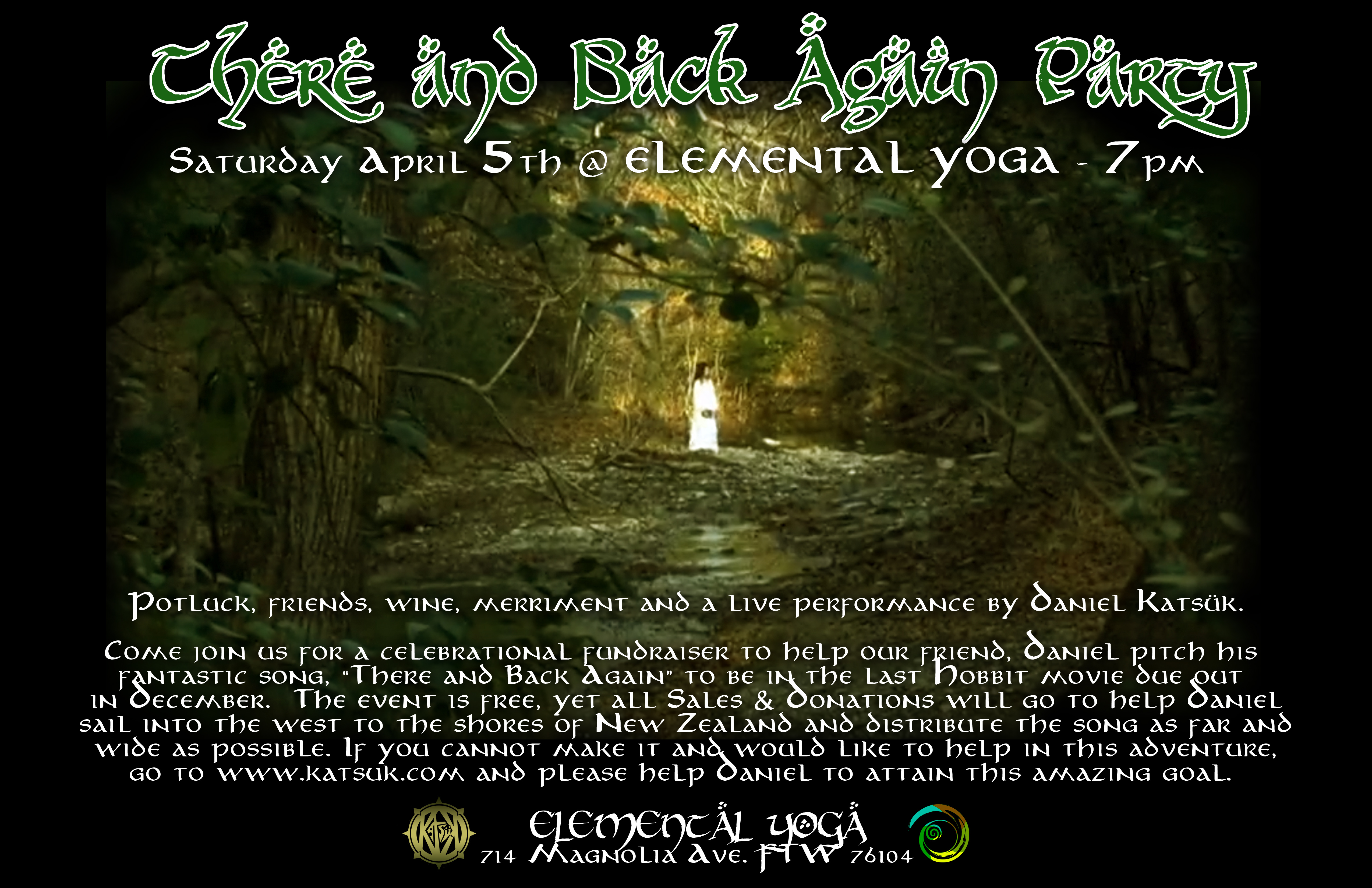 Authentic transparency is what binds us together.  Cleverness is a rouse we use to feed the ego's insatiable appetite for more.  I do not choose to be clever here, nor do I choose to create a sense of need when so many are in need, real need; a need that ties their/our lives to a continuous thread of survival.  I do however know there is an unknown gravity that pulls with the veracity of stars in the direction of this dream and all dreams.  I cannot say from where this gravity comes from that pulls me onto this new path, I just know that the times I have heeded it, curtains pull away to new vistas unimaginable.  This is what I am choosing to embark on now, following this gravity, this magnetism to whatever end. 

I came to Tolkien not of the books, but the movies.  Soon afterwards I began reading the Hobbit.  It took a few tries to get past the innumerable names that felt like reading the end of Genesis, but it was the beginning of something fantastically indescribable.  This man, Tolkien wove together such picturesque universes that my mind remembered it as a far away home and awed at the complexity of what may arise from thin air.  Ages of history of a world distant but dear to heart flowed forth to fill the imaginations of many.  This began the fire within me to write a book of my own travels in which synchronistic in nature involved going to a place called New Zealand in the winter of 1997.  I had seen a few pictures of this miraculous place in books and felt that this enchanting double island was one of Earth's last oasis'.  So my friend Michael and I stepped out of our door with $300 to our name, determined to reach this promised land; promised because the gravity had told us so.  Once we reached the borders of Texas, my friend was unfortunately arrested and I was left alone on the road.  With just enough money to buy some food, I began hitchhiking around the southwest trying to find my direction and winding my way to New Orleans in time for Mardi Gras.  Along the way, something found me that I did not know I had: a voice.  Something wanted to speak through me and music was its modality.  I gave in, returning to Arlington Texas where I joined a music group called Spoonfed Tribe and had many wonderful adventures with them touring the country.  The thought of New Zealand subsided into a wishful impractical someday. 
Years later, shortly after reading the Hobbit, Lord of the Rings and having a dream in which I was shown to write of my travels, I felt inspired to begin the process of putting down a book describing the journeys of naïve youth.  Naïve for the fact that it was a time of truly stretching the self into the Soul it has always been.  Still stretching today, I have re-written this 300 page book five times and though it is still unfinished and unpublished, it is a statement of who I was and am.  The reason I feel I have not completed it is because I have not completed experiencing the story as of yet. There is no finish line in infinity, so no story is ever really completed, but there are chapter changes in creative evolution.  Another reason for my reluctance in putting it out there is the fear of transparency, the fear of illuminating my struggles, lack of self worth, failures, mistakes and the shadow of my self for all to see.  Yet, I am choosing to be transparent, because I cannot afford not to be and every footfall is a foot forward if a lesson is learned.  I know that every joyful moment in my life came from letting go and that is why the main theme of this book is about mustering the courage to leap knowing the universe will hold out its arms to catch us.  One day I hope to share it with you, but now I must finish the cycle of the story.  That is what brings us today and the writing of this blog.

Once again this powerful gravity has emerged in my heart to go to New Zealand and share a song I wrote called, "There and Back Again."  This time however, the gravity of this is nothing like I have ever felt.  It is as if every atom of my being is being shot from the bow of some unimaginable force.  From the very moment the song was conceived every part of me has been focused on recording and getting it heard.  Every day I have immersed myself into anything Tolkien, listening to the soundtracks constantly, incorporating themes from the books and movies and visualizing this song making its way into the last Hobbit movie coming out in December 2014.  I have written every contact I could find, called overseas to the post production houses and studios, yet have received only that no one will listen to unsolicited material.  So thus the reason to go to New Zealand is to solicit the shit out of them, personally!  I am pursuing every avenue imaginable to find this song's way to the right ears and will leave no door unknocked. 

I journaled a hundred reasons why I am doing this, but in short, I personally feel the stories of Tolkien are some of the most moving tales of prevailing love, courage, friendship, light and magic that humanity has been offered and in the core of my being I desire to be a part of that tale.  This song, "There and Back Again" encompasses all those themes and ties the two trilogies together triumphantly.  Another reason is that I choose to show my daughter that if someone follows their dreams and works diligently towards them, something wonderful will happen; our dreams will either be made manifest or something greater than we could have ever imagined will happen in their place.  All that I have ever wanted to do was help others, especially through my music and that is my absolute purpose in being and in this song particularly.  I feel it has a genuine chance, if it is heard.  I know the window is small, but my conviction, action and all of my thoughts are bent on making it happen.  I am researching publishing companies to send it as well, because a big name soliciting it will get attention.  This name will come to me.  They are looking for me, as hard as I am looking for them.

The reason for this blog is to be absolutely transparent in my diligent doings on getting this song into the Hobbit, as well I am choosing to chronicle my journey There and Back Again so all may come along for what I feel will be one of the greatest chapters of my life.  My goal to get to New Zealand is $4000, yet on my Go Fund Me page I made my goal to include the recording of a new album that will contain two discs full of new music and some older songs revisited.  The whole goal including the expenses of going to New Zealand, recording, mixing, mastering, production and promotion of a new cd with "There and Back Again" on it is around $10,000.  I would not reach out to anyone with this desire if I had the ability to do this on my own.  Over time, I could pull this together, but I am afraid my window to get this song heard may close.  They did not have an idea for a closing credit song for the second Hobbit movie until October of last year so I am hoping they are in the same boat once again for this last installment.

I feel extremely blessed by the amount of people who have shared this song and have already donated.  To all those people, I want to say thank you from the fullness of my heart.  It is very hard for me to ask others for help in this but I know I cannot do it alone.  The idea of asking people for money to help with this goal took a lot of prayer, but after much reflection I know this song is worth its chance.  I am worth this chance as you are worth your chance at living the ideal of your dreams.  I can feel my whole life changing right now and I am riding this magnetism to whatever end (more on this in another blog).  One thing for sure, I know something wonderful will come from all of this.  This is an absolute.  I have never felt so pushed by anything so I know something is awaiting.  The journey alone has been teaching me a new ethic in work, action, conviction and faith so in a sense I am already successful because I am learning to love the journey, not the outcome.  Though I am ever vigilant, ever rabidly geeked on the seeing "There and Back Again" as the closing credit song in the Hobbit 3! 

Community, this means so much to me.  You mean so much to me.  All I know to do is to share and teach in the best way I know how and this is the highest thing I feel that I can offer the world, to serve.  In the writing of this song, I have once again found my voice and purpose musically and I could really use your help in manifesting this goal.  To be in the last Hobbit movie would be a dream come true and in every fiber of my being I am exhausting every avenue to make this happen.  My loving and supporting community, it would honor me if you would help me along on this quest.  Here is my Go Fund Me page.  Please take a moment and check out all the rewards and donate to help this wild dream become a reality.  May all that you give come back to you ten-fold.  Thank you for hearing me, thank you for supporting me and thank you for sharing.  Love I You.

This Saturday I will be playing at Elemental Yoga, which will be a fundraiser to help earn the means to accomplish these goals.  I will be selling the song "There and Back Again" for a donation of $1-$10,000.  Whatever you feel this is worth to you.  I will be joined by two wonderful musicians Christin Duke on violin and Joe Vea'nueava on harp, oboe, flutes, bells, harmonium, and many manner of doodads.  It is free.  Byob. Wine. All Ages. Doors at 7pm. Music at 7:30pm. Elemental Yoga 714 W. Magnolia. Fort Worth Texas 76104.
www.elementalyogatherapy.com
Come join us!

GO FUND ME: 
www.gofundme.com/thereandbackagain
YOUTUBE VIDEO: 
https://www.youtube.com/watch?v=j2qJ2QylvFU